Chateau Rouge are a London based independent tea company. They import, pack and distribute speciality teas from around the world. They are passionate about tea and want to celebrate it in all its diversity. So we were very keen to taste some of their products.
Rooibos is not actually a tea but a tisane, a herbal tea, made from the leaves of the South African plant known as the "red bush" (scientific name Aspalathus linearis). It is naturally caffeine free. Most Rooibos is oxidized which produces the distinctive reddish-brown colour and enhances the flavour.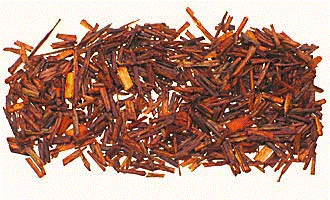 Chateau Rouge sent us two from their range;
Wiedouw Rooibos
- £4.95 for a 50g pouch; and a
Vanilla Rooibos
also £4.95 for a 50g pouch. Both are organic and certified by the Rainforest Alliance.
The packaging is sleek, modern and rather understated. They sell mostly via the website and, we supposed, don't need shelf appeal. They do also sell some of their teas in rather attractive tins (£10.95 for the Wiedouw in a 100g tin)
We liked the fact that the pouches are resealable and will keep the tea fresh.
The Wiedouw was tasted first and we all agreed it smelled very fresh and appealing. It is single estate, coming only from the Wiedouw farm in South Africa. It brewed to a rich reddish-brown colour and had a bright, almost grassy flavour with a malty undertone and no hint of bitterness. There was no heavy aftertaste, and it tasted very refreshing.
The Vanilla Rooibos is made from a combination of South African rooibos and vanilla pods grown in Madagascar. Prior to brewing the vanilla scent was faint but once in the cup if came out beautifully. Even without checking, we could tell the vanilla was real, as it didn't leave the sour aftertaste you often get with vanilla essence or flavouring. The vanilla added a sweetness and creaminess to the rooibos flavour that Charlotte and Caroline particularly appreciated. Charlotte was surprised to find that she preferred this one, as she's not usually a fan of flavoured teas. Mo, however, liked the plain rooibos, as the vanilla made the tea too sweet for her.

In conclusion; these are two really good tisanes - ideal if you want something without caffeine.
If the standard of these are anything to go by, the rest of Chateau Rouge's range is well worth checking out, expecially as they offer
taster packs
of five 10g samples for £10.95
*EDIT: The taster packs are no longer available, but Chateau Rouge now do a range of jams, coffee and hot chocolate alongside their teas.