"I asked the maid in dulcet tone
To order me a buttered scone
The silly girl has been and gone
And ordered me a buttered scone."
Anon.
The age old question: is it pronounced skon or skoan? Our Twitter vote so far is 12 to 3 in favour of skon. But what is a scone and where does it come from?
Well, the Oxford English Dictionary reports that the first mention of the word was in 1513 in a Scottish poem - a translation of The Aeneid. But I think they must be much older than that.
Just look at this in Isaiah 16:7
Therefore the Moabites wail, they wail together for Moab. Lament and grieve for the raisin cakes of Kir Hareseth
Clearly the Moabites were missing the fruit scones of Kir Hareseth. I wonder if they had them with jam?
And in the Canterbury Tales Chaucer writes:
I wol bothe drynke and eten of a cake.
Scholars* of Old English have suggested this could be a griddle cake or scone.


The word scone derives either from the Middle Dutch schoonbrood (fine white bread), from schoon (pure, clean) and brood (bread). Or perhaps from the Gaelic term "sgonn" meaning a shapeless mass or large mouthful. I hope we don't come across any like that in our reviews.
The original scone was round and flat, the size of a tea plate. It was made with unleavened oats and baked on a griddle, then cut into triangle shape for serving. Today, the large round cake is often called a bannock, and the quadrants, scones.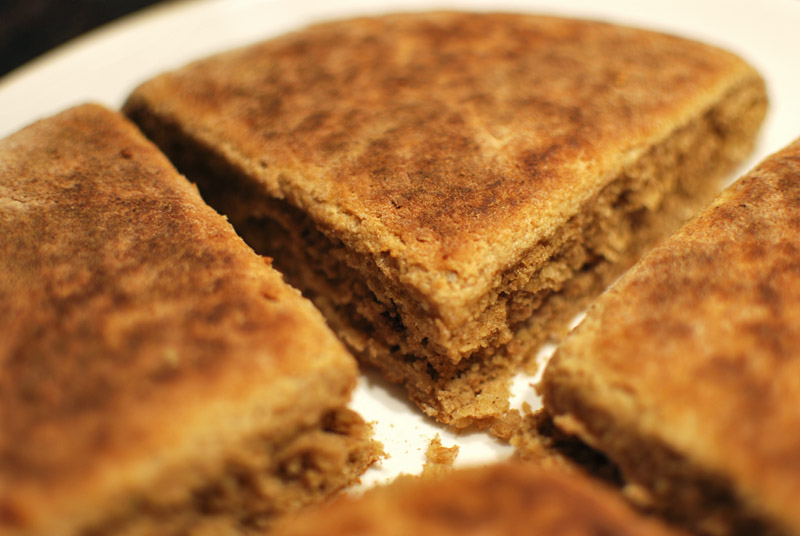 Apparently the modern scone – baked in the oven - didn't come into being until baking powder became commercially available in the mid-19th century. Which would explain why Jane Austen doesn't mention them.
Scones, however they are pronounced, are an integral part of the afternoon tea experience. And so we salute them, especially when they are served with jam and clotted cream. But which goes on first; the jam or the cream? That's a question for another day.
I will leave you with the immortal words of the Monty Python Lumberjack song.
"I cut down trees, I eat my lunch
I go to the lavatory.
On Wednesday I go shopping
And have buttered scones for tea."
And Mary Berrys recipe for scones
*me mostly
Posted by: Mo